September 27th, 2014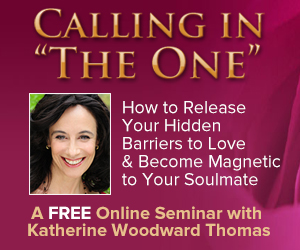 Do you ever feel like you have a soulmate out there you just haven't met yet?
Bestselling author Katherine Woodward Thomas, MA, MFT, has developed a powerful and proven process for finding your soulmate that she wants to share with you in this free online seminar.
With so many relationship courses out there, it's rare that I come across one that feels genuinely life-changing or that has such an extraordinary track record of success.
There are even spiritual luminaries, including Marianne Williamson, Deepak Chopra, and Neale Donald Walsch who rave about Katherine and the Calling in "The One" approach.
Make this the year you look back on as the year you "called in" your soulmate.
Calling in The One: How to Identify and Release Your Hidden Barriers to Love & Become Magnetic to Your Soulmate.
Click Here to access the Free online seminar.