February 19th, 2015
Did you know that cow shit in India isn't cow shit? It's cow *dung*.
At any rate, there's lots of it. And, we were told, people put it to good use, be it burning it as fuel for heating, or drying it into bricks and building houses with it. We found it particularly useful for stepping in.
With nothing special to do on our breaks, we'd often walk into "downtown" Ganeshpuri to do a bit of shopping, or to just absorb that slice of India outside the ashram gates. And cow dung was everywhere. At first we tried to avoid it, and this resulted in a very strange, zigzag, almost stumbling walking pattern. But even this ingenious technique didn't work – we still stepped in a lot of shit. We learned to wear rubber shoes – thongs or the like – and to hose them off when we got back to the ashram. We also learned the value of *letting go*. We hated stepping in this stuff but it was truly unavoidable. *Let go*!
*Letting go* seemed to be a key facet of learning how to be happy in India because things were *different* there. People just didn't seem to play the game of life the way Americans did. It was common to see merchants in the village sitting cross-legged all day in their little stalls, seeming as if they absolutely didn't care whether they ever made a sale. Service was, by our standards, incompetent and *slow*. The old English adage that "you can't speed up the orient" seemed 100% true. And when we asked people questions about directions or the like, they would seem quite determined to be *un*helpful. They would maddeningly have trouble understanding the simplest requests, and were very fond of giving no-can-do answers such as
"Oh, you can't go *there*."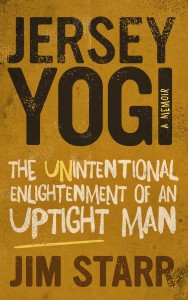 Their agendas were different than ours, and it behooved us to lighten up in our insistence that things go *our* way. I didn't *consciously* try to alter my fast-paced priorities, but noticed that a bit of India was rubbing off on me anyway. One day I needed to change some dollars into rupees and went to the tiny little bank which was right next to the ashram. There were no other customers in the bank except one Indian woman who was ahead of me in "line." I still don't understand how or why this happened, but it took me *three hours* to change the money! But the weirdest thing was: *I didn't even mind*! Three "wasted" hours, and I wasn't even mildly pissed-off. I was imbibing India. I was slowing down…. I was letting go.
Learn more at: http://jerseyyogi.com/
*****
Jim Starr was born in New York City and grew up in New Jersey. A natural competitor who did everything to win, and the sorest loser if he did not, became a successful computer programmer and created a very promising career and life. However, in 1976, a devastating sports injury would have him question his future, seek relief and start a journey that would lead him to become an unusual yogi—Jersey Yogi. Today, Jim is a philosopher, certified Rolfer (a holistic practice similar to deep-tissue massage) and an avid student of the human condition. He's also an amateur musician and a hospice volunteer—seeking to give, and to be where he can make the most difference. He currently resides in Colorado. Still very much the competitor, he plays handball and has won the Colorado State Championship in his age division numerous times. Jim is the father of three children: Lionel, Amy and Rachel.