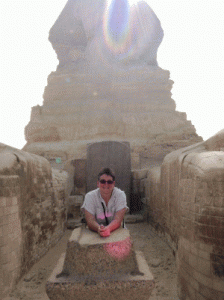 By JOYCE LUCK
Many people have asked me why I chose to write this book. The life of Jesus has been told, and retold, so many times that there's hardly anything new to say. Another friend, a Roman Catholic, even worries that the book's unorthodox elements will get me in trouble, or at the very least, loads of hate mail.
But you see, it isn't so much the life of Christ that interested me–although it certainly does–as it was the life of a member of his family, the life of one who was there and remembers for himself, the life of one who was only a single generation away from the teachings, and the struggle of that person trying to reconcile Christ's words and what had happened to his uncle with his present-day events, that interested me.
This book is every bit as much about Joseph, the narrator, as it is about Jesus. And there are many new things to explore. Though scholars naturally argue about it, most are agreed the community at Qumran, likely the Essenes referred to by Josephus and Philo of Alexandria, were behind the Dead Sea Scrolls. And some of those scrolls seem concurrent with Jesus. What does that mean? And we also now have the Nag Hammadi find, with codices rich in alternative and hitherto unknown stories about Jesus.
I entertained the question: what if some of this material is actually historical? Or every bit as historical as the canonical gospels?
What if the Talpiot Tomb really is the tomb of the family of Jesus? And the bones in the ossuary marked "Jesus, son of Joseph" are truly those of Christ?
What would it have been like to see your uncle, just a man for all you knew, being morphed by theology into a god? To hear of claims that your uncle, whose bones lay in an ossuary in a tomb that you yourself had seen, was not actually there? That he instead had come back to life and walked the earth in the same body three days after his crucifixion?
So, all good stories begin with questions, with "what ifs" such as these.
I don't want to give away the ending, but I will say this. Joseph tells us his truth. It's no less a miraculous story, but it's a different story all the same. And if we listen closely to him, we'll find we have within us the power to transform the world.
A grounded retelling of Christ's life and the early days of the church from the gospel of his ailing nephew… These theories are impressively accessible and introduce new concepts that parallel fairly well-known historical and biblical events while using modern names for people and places throughout.
An ideal example of how fiction can be used to present and explore alternative concepts in history and religion. Kirkus Review April 2015
**********
JOYCE LUCK is a professor of English and author of the biography Our Little Secret. As an undergraduate, she double majored in English lit and religious studies and has long been interested in the Gnostic gospels, alternative Christianity, and esoteric literature.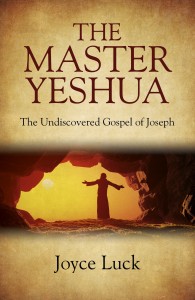 Jesus is not who you think he is. The year is 75 CE. Joseph ben Jude, the nephew of Yeshua, is frail and ailing, but he gathers together stacks of goat-skin parchment and picks up a reed pen. He has a prophecy to fulfill before his death: that he will record the story of his uncle Yeshua. A former Essene and now an Ebionite—the first generation of non-Gentile Christians—Joseph grieves over the destruction of the Temple. He fears the End Times are near. He is also troubled by the accounts already being told of his uncle. His grandmother—a virgin? His uncle—the son of god? Simon Peter—head of the early Church and not his uncle James?
Follow Joseph as the suppressed story of Yeshua and the early Church unfolds, revealing a message of hope that resounds throughout the ages and speaks to us even more urgently today.
The Master Yeshua will be published by Roundfire Books May 2015, ISBN: 978-1-78279-974-0 (Paperback) £12.99 $22.95, EISBN: 978-1-78279-975-7 (eBook) £4.99 $7.99.