Good Morning DearHearts,
I am truly realizing that each experience I have is only another way of learning.  When viewed in retrospect I can "see" what was really happening, even though when in the midst of the circumstance it did not seem clear.
Thus we come to my latest life parable.  
Many months ago, let's say last summer, the refrigerator began to "have problems", not big problems, just little, shall we say episodes.  Sometimes in the morning there would be puddles of water on the kitchen floor.  Of course, my immediate assumption was a piece of ice was dropped on the floor and melted, so I simply dismissed the incident.
The puddle problems began to occur more frequently.  (Note to self: remind everyone to be more careful when getting ice and buy more paper towels.) 
Eventually the water on the floor was really becoming a nuisance.  The realization came that it probably was not an ice cube issue and I may need to contact a repairman. But instead of attending to it then, I put more paper towels under the refrigerator to soak up the drippings.
Just because we do not wish to attend to a circumstance when it arises; does not mean it will cease until it fits into our schedule.  My refrigerator did not fix itself, instead it developed another symptom.
I opened the freezer and tried to pull out the convenient bottom drawer.  It did not move.  Then I noticed that a layer of ice was now encasing the bottom part of the drawer and keeping it firmly in place.  I immediately diagnosed the problem as being one of drainage.  Obviously a drain was clogged and that was the reason for the water on the floor and the layer of ice.  No need for a professional repairman for something that easy. I'm sure I can fix it.  So, I pulled the appliance away from the wall and cleaned under it and hunted for a drain that was clogged.  However, I could not find one.  These newfangled contraptions are more complicated than their ancestors. Well, I did manage the clean off the coils, perhaps that would solve the problem. It did not.
By now it was the end of October and Hurricane Wilma came to town.  This gave the refrigerator a ten day resting period.  Maybe it needed a vacation.  Any clog in the drainage system must have been cleared and the ice holding the drawer in place was gone now.
 I had almost convinced myself the problem was resolved when a small pond under the refrigerator greeted me as I entered the kitchen one morning.  The paper towels under the refrigerator were now replaced by a nice terry cloth towel.  When folded properly, the towel almost looked like it belonged tucked under the icebox.
Several more weeks passed while I continued to ignore the plaintiff cries of an appliance needing healing.  I was just too busy to find a repairman.  I promise, as soon as I am not this occupied.
Then one morning my daughter was having cereal and said the milk seemed warm. The refrigerator had finally succeeded in getting my full attention. Suddenly calling the repairman outweighed any other plans I had made, including going to work.
By the end of that day, the refrigerator and freezer were back in tip top shape and the Lake of the Kitchen had finally dried up.
The refrigerator story is simply a example of how we tend to ignore our own discomforts. There may be a situation we are experiencing that is disturbing to us in one way or many.  Even though the situation is not to our liking, it is tolerable, and so we tolerate it. This behavior many continue for any amount of time, days, months, even years.
However, a moment will arrive when we can no longer ignore what is keeping us in a state of uneasiness.  Remember, we are either totally happy or not at all. Joy is an all encompassing state of being. Any "little" thing that is distressing actually is preventing our peace and peace is a total concept.
"Tolerance for pain may be high, but it is not without limit.  Eventually everyone begins to recognize, however dimly, that there must be a better way."
When we finally make the decision to explore what the better way is we have taken the first step toward claiming our peace.  One more thing, each of us has permission to find our own way towards peace. There are many paths that lead to one goal.
********************
Janet Weissman Bio
Janet was introduced to A Course in Miracles in 1991 and it quickly became a major part of her life.
She has led weekly ACIM groups since 1998. She currently has two weekly groups meeting on Zoom . There is also one in-person group meeting in Wilton Manors, Florida every other week at The Pride Center.
Janet records the daily lesson from the ACIM Workbook on YouTube. She is currently in her fourth year of recordings. You can find her at @janetweissman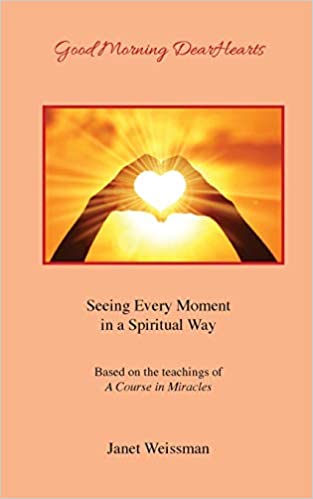 In 2020 she published her first book, "Good Morning DearHearts" which is still available on Amazon or her website JanetWeissman.com   She is currently ready to publish again with a flip book of affirmations. It's titled "Wisdom with a Twist"
Janet schedules sessions with clients for either spiritual counsel or simply to go deeper into their own spiritual practice with individual guidance, or reiki.
She can be contacted at