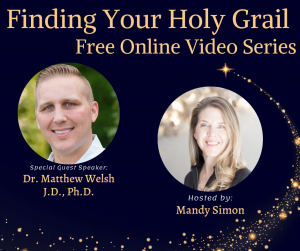 I'd love you to meet a woman who is supporting us all to live with courage and resilience during these uncertain times of the coronavirus pandemic.
Mandy Simon is working as a medical professional on the frontlines of medicine taking care of and treating patients with COVID 19. She is passionate about helping us move forward by providing tools and insights to boost our resilience, and live without fear.
She has been working in the healthcare field for the past 24 years. Whether as a healthcare provider, hospital administrator, associate professor or clinical researcher. Dr. Simon's work has taken on many roles, but never has she or her colleagues experienced such challenging and unprecedented moments. Moments that each of us are experiencing in our own lives in different and unique ways.
Mandy has decided to create a f.r.e.e. online video series to help us combat our fears and provide us with tools to assist us each day to show up fully! In this vision, she has invited me to be part of an incredible panel of experts that collectively we are creating a space filled with resources to help you show up fully each day, regardless of how uncertain each day begins.
I'm honored to be interviewed along with an inspiring panel of guest speakers. Together we'll be sharing strategies, insights, and proven tools to help you reclaim your life in a world which is being redefined by this pandemic.
The show is called "Finding Your Holy Grail: Re-Aligning Goals for a New World in Business, Love, & Life".
You can join the show now for FREE; it's very easy, just click on this link and you are in! You can watch anywhere anytime. Grab some tea, relax, and enjoy!
Here is what is covered in the VIDEO INTERVIEWS:
⮚ Insights to build your resilience and live without fear.
⮚ Practical advice to help you live with vision, and courage regardless of the uncertainty of the
future.
⮚ Guidance on living with purpose to succeed in business, love and life in our changing world.
⮚ Motivational tools and techniques to overcome paralysis and show up fully each day.
⮚ Tools for living without fear in uncertain times – empowering you to show up for loved ones.
⮚ Free coaching and consultation sessions with top experts, including myself, to help you move to the next level.
Each interview is a short (30-minute video) and real conversation with top experts in their field. Each provides valuable insights to strengthen and protect you. These rich, meaningful, discussions will be delivered to your inbox daily. Just register by clicking here.
Let me ask you this: During these uncertain times, wouldn't you love to join the conversation with these inspiring leaders and hear a real conversation on how to navigate the new world we now find ourselves in? For me, the answer was an easy, Yes! That is why I participated as a guest speaker and why I will also be part of the audience with you.
We are all in this together, and to remain strong we must stay connected. Reach out and claim your spot here for FREE: >>>>> https://rebrand.ly/MattWelsh
As a featured guest on Mandy's show: Finding Your Holy Grail, I am inviting you to come and join the conversation and reflect on the ways you can personally reclaim and redefine your life whether it is in business, love or life. Similarly, you can also find help with professional and personal development by learning more about life coaching at https://www.coaching-online.org/life-coach
Each of us must show up and join in as part of a community. We must now find our way together in a world redefined by this pandemic. This is the time for all of us. Join me and register Now! >>> https://rebrand.ly/MattWelsh
I am looking forward to our continued collaboration and very excited you'll be joining me on this very important next step!
Much love,
Dr. Matthew Welsh, J.D., Ph.D.
Founder of Spiritual Media Blog
~ Spirituality, Psychology, Inspirational Entertainment ~