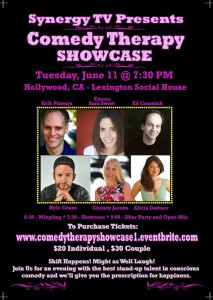 SHIFT HAPPENS! MIGHT AS WELL LAUGH!
What happens when stand-up comedians also serve as life coaches? You stop hurting and start laughing! Join Synergy TV for an evening with the best stand-up talent in conscious comedy and they'll give you the prescription for happiness.
On Tuesday, June 11 at 7:30 PM at the Lexington Social House in Hollywood California, the Comedy Therapy Showcase event will take place and feature today's leading conscious comedians doing original stand-up…
Their mission is to inspire others to laugh at their issues, stop taking themselves so seriously, and lighten up through comedy with heart.  Additionally, they seek to pioneer, with their trailblazing comedians, a new movement in comedy that elevates the awareness of laughter as healing and necessary in life.
Stand-Up Line-Up:
•Emcee Sarah Sweet http://www.youtube.com/watch?v=1i6nmzhV6nE
•Ed Crasnick http://www.edcrasnick.com/self.php
•Christy Jacobs http://christyjacobs.com/
•Alicia Dattner http://www.aliciadattner.com/
•Erik Passoja http://passoja.com/comedy/#!prettyPhoto
•Kyle Cease http://www.kylecease.com/
Host: Kate Neligan, Founder/CEO of Synergy TV.
Below is their schedule of events:
– 6:00 – 7:30pm Pre-fix dinner menu and drink specials available but not included in ticket purchase
– 7:30pm – 9:00pm Comedy Therapy Showcase
– 9:00pm – 10:00pm After-Party/Open Mic and cash bar
Notes: Valet Parking is $10/car, nearby lots range from $15-20 and street parking is metered. Once you purchase a ticket and enter the Lexington Social House you have consented to being filmed by Synergy TV/Mindful Media Entertainment.
Get Tickets at: www.comedytherapyshowcase1.eventbrite.com
"Through humor, you can soften some of the worst blows that life delivers. And once you find laughter, no matter how painful your situation might be, you can survive it." – Bill Cosby