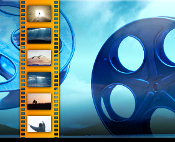 I recently had a chance to interview Robin Wilson about her new movie, Revelation. Revelation provides an historical account of good and evil, and how a young woman must regain her faith in God as the world's population braces for the Armageddon war. It took Robin close to three years to write the script and now she is in the process of submitting her screenplay to movie studios. There are two upcoming sequels she is planning on writing.

I asked Robin how she believes her movie will affect audiences and her answered offered some inspiring insight:
"I would really like for the audience to be impacted in a way that they know that God is real and that there is a purpose for why things are the way that they are today…and that there is something larger taking place than our own small worlds."
During the rest of our interview, Robin shared with me:
– What inspired her to create Revelation
– Advice for her other screenwriters on how to write a movie script
– Some of the challenging and rewarding parts of writing a screenplay
You can listen to our entire 15-minute interview by clicking the play button below:
If you would like to get in touch with Robin or learn more about her movie, you can email her at wilsonrl31@gmail.com.