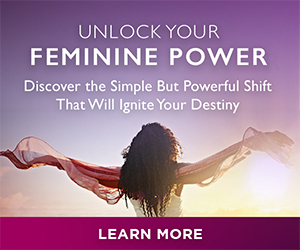 If you've been feeling the urge to share your gifts, talents, and passions lately…
It's because they're NEEDED in the world right now more than ever before!
But maybe you don't know where to start (or how to get to the next level). 
You sense deep down that a much larger life is possible for you, that you have something unique to share, but can't quite see the path clearly.
You're not alone. New research from our dear friend Dr. Claire Zammit, world-renowned mentor for smart, gifted women, reveals that ONE invisible block is limiting women from igniting their fullest potential — especially as they awaken to their highest purpose on earth!
And in her FREE Unlock Your Feminine Power Seminar, she'll guide you through her revolutionary process for breaking through this invisible barrier and creating the beautiful life of connection, creativity, contribution, wellness, and authentic success that is your true destiny.
I strongly believe in your potential to make a positive impact on the world by doing what you love most, which is why I highly recommend taking advantage of this incredible opportunity…
 UNLOCK YOUR FEMININE POWER NOW

Over 500,000+ women worldwide have already made this simple but powerful shift and are reporting truly astonishing life breakthroughs…
Amplifying their prosperity ten-fold, making a thriving living by contributing their gifts, expanding their reach and impact, enjoying optimal health and energy, and so much more!
Sign Up Here for FREE to Join Claire for the Seminar by Clicking Here 
You'll discover how to: 
Shatter the

#1 invisible barrier

blocking nearly ALL brilliant, evolved women from fully realizing their greatness 

Determine

which key area of your life,

such as relationships, health, prosperity, or purpose, is most "ripe" for you to focus on right now 

Set an intention that creates a

"chain reaction" of extraordinary results

in ALL areas of your life  

Finally release the

limiting beliefs

that hold women back that are also the root cause of self-doubt, feeling invisible, isolated, or just "not good enough"




Activate your

"Feminine Navigation System"

so you can intuitively and confidently make powerful decisions and become resilient in response to challenges 

Let go of stagnant "push energy" keeping you STUCK, and open to receive the endless

flow of abundance

from a loving Higher Power

Create a

field of synchronicity

around you that magnetizes the RIGHT support, resources, and opportunities you need to thrive

Free yourself from the

isolation and loneliness

far too many brilliant women experience, and step into connection with a global community of "Power Partners" 

And MUCH more!
Sign Up Here for FREE to Join Claire for the Seminar 
I can't wait to see your brilliance, gifts and talents, fully expressed! 
P.S. There has never been a better time to activate your Feminine Power. 
As we enter a new, exciting era following one of the most challenging years in history, the world is in great need of empowered, impassioned women living with purpose.
By sharing your unique gifts and talents with the world, you're directly shaping the future of humanity! 
Sign Up Now for FREE: Unlock Your Feminine Power and Step into Your Destiny by clicking here.