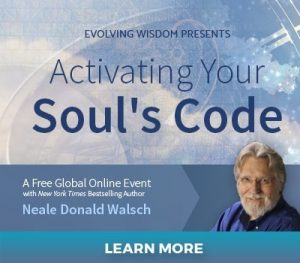 Can you imagine what it would be like to be able to be your truest self in every moment—relaxed, focused and self-assured—effortlessly attracting abundance, excitement and joy into your life?
It wouldn't matter where you lived, how much money you had, what you did for a living, or who your friends were for you to feel deeply happy and content, ready to face every day with a real smile, no longer at the mercy of your doubts and fears.
It took my friend Neale Donald Walsch (New York Times bestselling author of the Conversations with God book series) nearly 20 years to fully understand and apply the messages he received about how to live his life in this way…
And now, in his FREE online event, "Activating Your Soul's Code & Discover the 3-Step Process That Will Help You Forge an Unshakable Connection to Your Inner Compass & Create a Life That Reflects Who You Truly Are," he wants to share those profound insights with you!
Discover the Secret that Can Make Everything in Your Life Better in Every Way – at No Charge
Click HERE to participate.