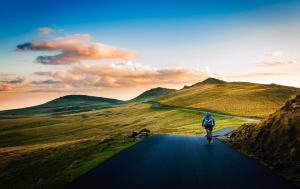 As we begin to age, we start to notice various things in our life change. For one, we become far less tolerant of changes to society and culture. We also begin to go a little greyer or whiter on top. Most importantly, though, we'll begin to feel like our minds and our bodies are beginning to hit a slowdown. Things which were once a doddle for you will soon become a challenge, and previous challenges become like a personal Everest!
If you want to avoid the hands of time catching up with you, though, some exercises are likely to be better than for you than others, for more exercises check out the detailed infographic from gym equipment below. If you want to keep your body and mind in top condition even as you age, though, you can find that the following solutions might be just what you are looking for.

Use your wisdom (wisely)
First off, as we grow older we likely find that our tastes change – and not just in music. Many things that you have enjoyed for much of your life might just begin to lose the same meaning to you. with that in mind, we recommend that you try and fill that growing gap in your hobbies with something truly awesome: Tai Chi.
This ancient Chinese martial art is easily among the most enjoyable exercises that you could take on, and the best part is that it's all about low-impact exercise: despite being a strength training. It's great for those who are growing older, too, as it works well on your balance and can play a key role in helping you to maintain your core fitness.
It's also great for mental wellness as it promotes the power of patience and taking our time to do things just right.
I ran so far away…
The second exercise plan that we recommend is a good old fashioned run. Sure, as you get older you begin to feel the cold a bit more, but few things in life quite make us feel so good as a good old run. The reason why you need to go on a run, though, is that you need to keep your ticker – your heart – in top condition.
As we age, other physical weaknesses and challenges – as well as a build-up of a lifetime of stress- will see our poor hearts put under a lot of pressure. If you go for a run, though, you push plenty of blood to the heart. Simply go for a run four to five days a week, and you will find the benefits yourself.
Nothing special – just an old-fashioned run, perhaps accompanied by some of your most beloved running tracks!
Get on your bike
Among the most useful ways to stay in top shape, though, is to hit the road on your bike. A bike is a fine choice for numerous reasons, not least the fact that some high intensity cycling is a great way to keep up high levels. It's also a proven way to keep your mitochondria function nice and high, imagine that your body is going to have much more energy and zest needed to help make sure that every organ in your body can work to maximum impact.
As we age, our mitochondrial function will decrease and diminish over time. This helps you to solve that problem as easily as possible, ensuring that all you need is a bike and some good weather to get out here. Make sure you go for it, though: it has to be high-intensity if you want to really feel the effects.
Take a break and find a solution
If you find that your decision making and judgement is feeling especially hazy today, then we recommend that you go for a nice little walk. This is a good way to help get the body going again, and it also can be a good way to help keep a sharp and strong mind.
You will find that your body tends to feel much less prevalent and weak towards the fear of losing your memory. If you are able to go out and get a quick walk for around half an hour, then you should feel an immediate improvement in the way that you tackle a problem by the time that you get home.
If you are serious about making the solution come to life, then, you should absolutely look to take a break and find a solution: a simple walk might be all that you need to freshen up your mind and make the solution more apparent.
Swim away your troubles
Lastly, we recommend that you make some time for a favored past-time of the experienced: swimming!
Swimming is such a fun way to pass the time that you should love going for a swim anyway. Those who maintain sharp bodies will keep their mind nice and sharp, and you will find that your body is able to take more of a hit if it used to the rigors of swimming. It's great for improving the health of your heart, and we also believe it is good for the mind.
Many studies point to the quality of swimming for helping those with dementia. If you want to keep your mind as sharp as a tack, then might we recommend that you get up on the diving board and go for a little swim? Believe us: the results speak for themselves once you try it out for yourself.
Living your best life
So, with the above ideas in mind, you should have a good idea of what kind of exercise is right for you. We all have our own choices and personal preferences, but all of the above should be used in your fight against time. If you want to make sure your mind stays sharp and your body stays well-honed, then it makes sense to return to living your best life possible.
While you might have your own routines and regimes, adding in the above should make it much easier to keep yourself even healthier!