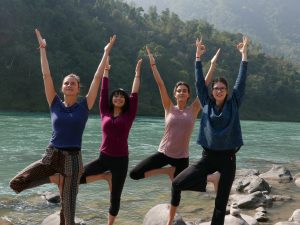 Summary: Take a temporary escape from the churning of life and step into the world of transformation with yoga training in the paradisal land of Nepal. Explore the blog and know the amazing reasons to commence yoga teacher training in Nepal.
Withdraw yourself to take a soulful escape to the place where you can find more purpose and meaning to life, amidst the stressful lifestyle, hectic schedule, daily life grinding and a lot of commitments. Revitalize the body, mind and soul, and achieve the needed balance in life through a holistic approach to yoga. Let yourself garner the opportunity to be in a harmonized state with the intensified learning of the ancient science with yoga teacher training.
Yoga training is an apt way to feel more curious about exploring the self, build awareness and ignite consciousness. The training program at a yogic land turns out to be more enticing and enchanting, and Nepal fits the best in the scenario.
The meditation capital, Nepal, is a paradisiacal ancient yogic land that gives you an opportunity to deepen the yogic knowledge amidst the tranquil ambiance. Embark upon the transformative journey of yoga training and heal by adopting spiritual outlook in Nepal.
Here are the points that convince you to commence yoga teacher training on the beatific land of Nepal.
Scenic Serenity that Soothes the Soul
Nepal is truly a heaven on Earth crediting to its picturesque scenic views and diverse terrain. A beatific country in South Asia, Nepal is blessed with natural serenity that allures a lot of tourists every year across the world. From its snow-capped Himalayas ranges to mesmeric lakes to heritage sites, pristine valleys and a lot more, Nepal welcomes you for yoga training and retreat and lets you witness the uninhibited manifestation of exemplifying nature.
The country offers an array of beautiful and mesmeric scenic views, lush green forests, architectural beauty, ancient temples, royal palaces, monuments, simmering rivers, enthralling waterfalls, magnificent fauna and flora and lots more. Nepal is truly a quintessential place for attaining peace and calmness and creates a perfect ambiance for yoga practice.
A Land with a legacy for an Enliven Yoga Experience
Today yoga has spread its roots across the globe, but it is true that learning the in-depth knowledge of yoga from the land with yogic lineage enhances the experience. It becomes much more enticing for yoga enthusiasts to traverse to the ancient yogic land and garner the quality, traditional and authentic learning of the holistic art.
Kathmandu and Pokhara are the right places in Nepal to travel for acquiring yogic experience crediting to its calm and tranquil atmosphere. Nepal is a place that has an array of renowned and reputed yogic schools and meditation centers that offer best yoga programs to learn under the guidance of skilled, experienced and eminent yoga teachers.
A Place for Adventure Fanatics and Wanderers
Whether you're an adrenaline junkie by heart or want to experience the real thrill for the first time, Nepal is the right place that embraces all hardcore adventurers offering them a wide variety of activities. You can choose or try all from trekking, bungee jumping, white-water river rafting, mountain climbing, waterfall trekking, mountain biking, caving, paragliding, etc.
Yoga teacher training, retreat or yoga tours are great ways doing both yoga and satiating the wanderer in you who love adventure. In Nepal, many yoga training organizers and centers offer adventure yoga retreats and even offer adventure activities during an excursion in the yoga training package.
Witness the Deep Spiritual Enhancement
So much to offer and take, you can't get enough of Nepal. The land not only offers the best yoga courses or offers a variety of adventure activities but also lets you connect with your spiritual being. Even a month is not enough to fully discover the spirituality of the country, and with the holistic approach of yoga and its various aspects, you experience the spiritual enhancement within.
To add to it, the sight of monks, temples, shrines, people spinning the prayers wheel, and more, Nepal offers a hefty dose of spiritualism. During the yoga teacher training in Nepal, you get an opportunity to witness ancient Hindu and Buddhist temples, and can also visit Lumbini- the birth land of Buddha and soak yourself into the spiritual aura of the place.
Nepal goes Easy on the Budget
Being an in-expensive country, the cost of yoga training or vacation is amazingly affordable. Everything in Nepal goes easy on your budget from traveling to staying at luxury resorts, relishing adventure activities, shopping, strolling to beautiful places, and eating delectable Nepalese cuisine. Just remember to choose an all-inclusive training program for more benefits and enjoy your stay in Nepal.
It is easy to travel to Nepal and reward yourself with the amazing yogic experience and spiritual enhancement. Take the much-needed break with yoga and unwind completely.
**************************
Author Bio: Bipin Baloni is a passionate Yogi, Yoga Teacher and a Traveller in India. He loves writing and reading books related to yoga, health, nature, to travel across the world and loves trekking in Nepal . Website: http://bookmountaintours.com