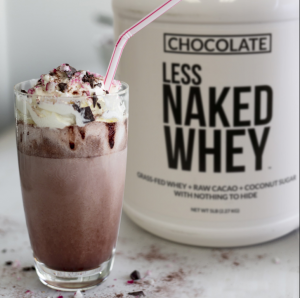 One protein that I have recently tried and like is naked nutrition chocolate whey. Below are some of the benefits I have experienced from it…
1. Increased satiation
One of the most important qualities of food or drinks for me is how satiated I feel after I eat or drink. I describe satiation as a feeling of fullness and satisfaction. For example, eating a donut may taste good, but likely does not leave me feeling full. However, one of the best reasons to drink protein shakes is they increase satiation. I usually feel full and satisfied after I drink a protein shake. I believe it is best to drink it with a meal, especially breakfast because I almost always eat less during breakfast when I have a protein shake with it and always feel more satisfied and full after I drink a protein shake.
2. Helps build and maintain muscles 
Protein is fundamental to building and maintaining muscles mass. This is also correlated with weight loss. For example, if you have greater muscles mass, then it is easier to lose weight. Additionally, if you are doing any sort of strength or resistance training, then protein can help you build and maintain muscle. This works in an interesting manner. For instance, immediately after lifting weights or doing pushups, or any resistance training, muscles are actually broken down, but later rebuild. Adding protein to your diet while you are lifting weights or doing resistance training can help your muscles rebuild. Additionally, muscle weighs more than fat. So, building and maintaining muscles mass can help shape your body too.
3. Increase sustained energy
I like drinking protein in the morning right before I eat breakfast because it helps give me long lasting energy throughout the day. This is the type of sustained energy, rather than a short term boost that later wares off. One benefit of this sustained energy is that I have little or no need to drink caffeine most days that I drink a protein shake. I used to drink a lot of coffee and even energy drinks on a daily basis. After I started drinking protein shakes for breakfast, I significantly reduced my need or interest to drink caffeine to start the day and still have sustained energy throughout the day.
4. Create you own smoothie or protein shake
Another benefit of drinking protein shakes is that you can combine other ingredients to it to make it taste great and enhance the nutritional value. I know it may sound strange, but I combine my protein powder with a raw egg, avocado, and apple juice. The combination actually tastes really good and throwing in a raw egg and avocado help to enhance its energy and nutritional value. However, you can mix it with other healthy ingredients such as blueberries, almond butter, bananas, kale, or whatever you want to add to your shake.
5. Regulates mood and prevents me from being hangry
There is a strong link between what you eat and your mood or stress level. Protein shakes help me regulate my mood and manage my stress throughout my day. On days when I don't drink protein shakes, I am more likely to feel anxious, tense, stress, and less energy. However, when I do drink a protein shake, it is easier for me to relax, focus, and manage stress throughout the day.
Pick the right protein….
One of the most important parts of getting the benefits of protein shakes is to pick the right type of protein supplement. Some protein supplements are actually very unhealthy or not appropriate for your health goals. For example, I walked into a nutrition store once and asked one of the workers there for a recommendation for a protein supplement and he recommended a protein supplement that had 200 mg of caffeine, about the equivalent of 2 cups of coffee. If I had not carefully read the label carefully, I would have been drinking something that I was not aware had so much caffeine. Other protein mixes have a lot of sugar, carbs, or excessive amounts of protein.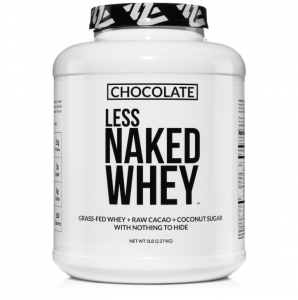 One protein that I have recently tried and like is naked nutrition chocolate whey. It has a lack of chemical additives and high quality ingredients. The only ingredients include Grass Fed Whey Protein, Organic Chocolate, and Organic Coconut Sugar. There are No Artificial Sweeteners or Colors. There are 25 Grams of Protein and 5.9 Grams of BCAA's Per Serving.
I have been drinking it recently and experienced all of the benefits listed above including increase satiation, a good supplement to my resistance training, increased sustained energy throughout the day, good tasting protein shake, and enhanced ability to manage stress.
For more information, please visit their page at
https://nkdnutrition.com/products/chocolate-whey-protein