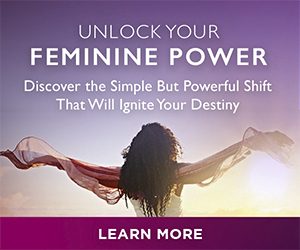 If you're like most women in our tribe, you want to feel energized, healthy, vital and well (e.g. you want to achieve your ideal weight) so that you can step into the much larger life that's calling you!
So I'm excited to share with you a free LIVE Global Online Seminar from one of the world's foremost authorities on igniting women's power and potential, our good friend Dr. Claire Zammit.
FREE SEMINAR – Unlock Your FEMININE POWER
According to the groundbreaking research Claire has conducted over the past decade, there's a shocking reason you could be held back from your greatness that is also a hidden root cause that may be underlying many chronic health challenges millions of women struggle with, such as stress, depression, anxiety, weight issues and more.
It has to do with the masculine system of power we've all been steeped in—without even realizing it.
In working with over 500,000 women, Claire has discovered there's one simple but powerful shift you can make that will exponentially expand your power to step forward into your destiny…
And we're excited to announce that she's offering a free LIVE Global Online Seminar where she's going to guide you through this exact process, step by step!
Register Now by CLICKING HERE for FREE: Unlock Your FEMININE POWER
When you apply all you discover in this seminar, you'll unlock the kind of power that will support you to…
• Liberate yourself from self-doubt and insecurity, become authentically confident and visible, and be recognized and rewarded for your contributions
• Release blocks that may be contributing to chronic health challenges such as depression, anxiety, fatigue or weight issues allowing you to move forward with limitless energy and wellbeing
• Attract a true equal—or transform your present relationship to become the intimate, loving relationship you yearn for
• Make the shift from simply surviving to thriving financially
• Discover your true "genius" so that you can create a business or career that will allow you to share your gifts in your "sweet spot" and fulfill your life's purpose and calling
• Be supported, loved and valued by all the people close to you, so you can become the best version of yourself
• Feel like you are finally LIVING your destiny as the woman you were born to become…
• And so much more!
And while these may sound like amazing RESULTS, they are the kinds of REAL changes that tens of thousands of women have reported they've been able to achieve directly as a result of applying Claire's research-based approach.
Women have made extraordinary improvements in their health, relationships, career and more when they've made the shift Claire will show you how to make in the seminar:
"Because of Feminine Power I lost 70 lbs, traveled solo in foreign countries where I didn't speak the language, and celebrated my new body by riding elephants, zip lining, and hiking to the Tiger's Nest in Bhutan (+12,000 ft)!"
—Carolyn, Camano Island, Washington
"Feminine Power did for me what a decade of schooling, therapy and personal development could not. My depression is gone!"
—Heather, California
"I hardly recognize my life. I am the healthiest I've ever been and feel truly beautiful, inside and out. And to top it all off, I'm engaged to a passionate man who is my true match in every sense!"
—Elham S., Geneva, Switzerland
Imagine what you can transform and create in your own life as a result of unlocking your Feminine Power!
The world needs your brilliance, gifts and talents—all you have to offer—and I'm grateful to be able to share what could be a life-changing resource with you.
Join Claire and a Global Tribe of Brilliant, Conscious Women to Unlock Your Feminine Power