I recently had the pleasure of interviewing of interviewing Giselle Koy, Director of the Conscious Media Festival. Below is the text of our Q&A
1. What is the Conscious Media Festival and what can people expect to find there?
The Conscious Media Festival is the first ever event of its kind, dedicated to the conscious broadcaster and those creating conscious content for the media. This includes all alternative platforms: social media, blogging, youtube, video, film, comic books, etc.
2. What sort of media presentations, education, and speakers will be featured there?
Our speakers include:
Aubrey Marcus, Founder of Onnit
Regina Meredith, Pioneer of Conscious Media
Seven Bomar, Founder of Secret Energy
Giselle Koy, Founder of Conscious Media Festival
Ron James, Founder of Ivolve TV
Kate Neligan, Founder of Synergy TV
Joe Martino, Founder of Collective Evolution
For detailed information: www.consciousmediafestival.com
3. How do you define Conscious Media and can you give some examples?
Conscious Media is a platform for information that is not consumable by the normative media. It contains seeds for awakening and optimizing the human being. It also sheds light on information that has been hidden from humanity. This is disclosure and a current conscious media trend.
4. Tell us a little about yourself, how did you get interested in conscious media and creating the Conscious Media Festival?
I am an author of spiritual books, presenter and co-host of a TV show on Ivolve TV. I was inspired by all the inspiration and practical knowledge I received at a film festival. So, I wanted to create this experience for all those who don't make film but create conscious content everyday, in other platforms.
5. What sort of impact has conscious media had on you?
Conscious Media inspires me to combine creativity with my soul purpose of delivering conscious messages. Also, through the impact of disclosure, my eyes have been opened to new levels of truth.

6. When and where is the conscious media festival and how can we get tickets?
Conscious Media Festival, Austin, Texas
March 3-5, 2017
AT&T Center at the University of Texas
Palazzo Lavaca www.palazzolavaca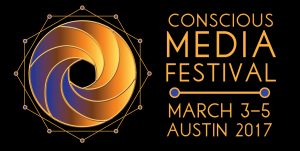 For tickets:
www.consciousmediafestival.com
7. Anything else?
Thank you for your help!