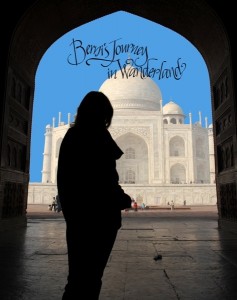 Bernadette Slowey is in post-production for her film, Berni's Journey in Wanderland. After leaving a toxic work environment from a successful 20-year career in the financial industry, she flew in the face of convention to reach for a dream she once thought impossible. She took a risk and went to India to film a documentary about a group of spiritual teachers from North America. However, the production doesn't go as planned. In a pivotal moment, Berni discovers the real purpose of her journey as the film becomes her story of resolving her past as a child refugee, being vulnerable to live authentically today and to be courageous with the unknown of tomorrow. Below is a Q & A of how the transition of a career that resulted in a life-changing transformation.
Slowey is raising funds to finish her film. To view the teaser trailer visit: http://bit.ly/WanderlandJourney
 1. What was your core inspiration for setting out to make a documentary?
Fortunately, the inspiration stemmed from a difficult transition and rejection. I left the banking industry at the height of the financial collapse. The economy was tanking and unemployment was rising. I had so many conversations with people who were distraught after losing their job or they were employed, yet miserable. I wasn't having much luck attempting to enter a different industry with many out-of-work candidates just as qualified. If I wouldn't have been rejected, I may not have ever pursued the film path. My creative side was screaming to come out and my head was swirling with screenplay and television show ideas. I have always loved movies but my experience was limited to corporate and non-profit video production. After interviewing industry professionals, a documentary appeared to be a feasible entree. If I found a topic that would help others, I could gain experience professionally as well as benefit from the subject matter personally. When I was invited to follow transformational coaches throughout India, the synchronicity of it all seemed too fitting to pass up.
 2. Why did you pick India to film the documentary?
I originally looked at filming a project in Brazil. My mother's declining health was a factor at the time, but I had this feeling that it wasn't a good fit and logistics were too challenging and expensive for my first project. I met Harrison Klein, transformational coach, in 2008 after the first of my three subsequent miscarriages. The miscarriages were a sign for me to leave the toxic work environment that was impacting my health and the well-being of my family. When he called to invite me on a trip he was hosting to Italy, I declined and told him that I was looking for a documentary subject to combine science with spirituality. Harrison then proceeded to tell he was hosting a group of spiritual teachers to speak at the 1st Parliament of Spiritual Science conference in Hyderabad, India. The speakers were then going on a tour throughout India. I would interview the speakers about their modality at the conference and then get their background story during the tour.  Although I would only have five weeks to plan, unlike Brazil, there was so much synchronicity during pre-production and all the signs were clear that I was to go to India. I felt as though I had received a literal and figurative "call" and my intuition told me to answer it.
3. What do you find so inspiring about the medium of film & video, when telling stories?
Film is the ultimate communication mechanism. I love how movies encapsulate one's life and can inspire through the magic of story-telling. Movies ignite the senses without having to experience something physically. People won't have to go to India to understand the message and feel inspired. After this experience, I feel that movies are a metaphor for life. We have the opportunity to cleanse the lens of the camera, rewrite the script and be the director of our lives.
 4. How have you changed since you first started planning your trip to India to now?
I prefer to think that I have grown into my truer self.  As I say in the documentary, the essence of me is the same it's my perspective that has changed. The film interweaves into my chaotic past as a child refugee from Vietnam and then again when my family and I evacuate Iran during the Anti-shah revolution. I craved stability and security and that explains how I stayed on a safe course with my banking career. Don't get me wrong, the industry was good to me for most of my career. However, it was not fulfilling and I certainly was not passionate about it. I was existing on autopilot. Through this film project, I feel energized and very alert to the present. I am a better wife and mother because I am more forgiving and loving toward myself. Rather than controlling, I am allowing them to express more of who they are. I am learning how to provide guidance without interference. I am blessed to be supported by my family and friends and crew who have remain engaged with the project.  I am definitely more authentic and willing to continue being vulnerable which aligns with the film's experience and message.
5. As a child refugee from the Vietnam War, what was your first memory of coming to the U.S.?
I remember evacuating on a USAF C-5 or C-141 from Saigon and feeling the chaos and distress of people leaving their homeland. As part of "Operation New Life" we stopped at a refugee camp in Guam. There was a small movie screen and single speaker set up for the children. Dr. Seuss' "Cat in the Hat" was playing and it was in English so I couldn't understand what was being said. I didn't care. I was told that the movie was from America and I was so enamored by the bright animated colors. I just assumed that was what I could expect reuniting with my American GI father in the United States. Watching how happy the kids were in the "Cat in the Hat" gave me a sense of joy and hope. That was the start of my love affair with movies.
6. What was the most important lesson you learned throughout the filmmaking process?
There were many lessons for me as a control-freak perfectionist during production and through post-production. Coming from the corporate world, it was hard for me to release project management habits and to embrace the creative process. Being with a group of esoteric people that were vacationing while I was working to finish the film presented many challenges. However, when I surrendered control, the production seemed to flow easily and everyone was having fun with the production experience. I realized it was my passion that was infectious. When passion meets purpose, I found that others were just as excited to be part of the filmmaking process.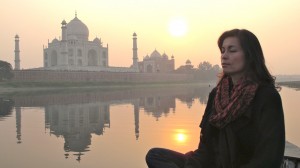 7. How did you let go of the perfectionist side of you?
Now that was a difficult process. I am really a recovering perfectionist that falls off the wagon all the time. I work very hard to manage my thoughts and feelings and I still am more comfortable when I am in control. Self-love requires constant nurturing and I am learning that being imperfect is perfection. The more authentic and vulnerable I am, the more I connect with others. I also had to learn not to take anything personally if people do not respond to my transparency.
8. Where you are now with your doc?
The script, written by award-winning writer Pat Woodard, is finished. We are in post-production raising funds to start the editing process. Fundraising efforts include grants, angel investors and other crowd-funding vehicles. Additional music tracks are being composed and we have an aggressive production calendar to complete the film this year. The film will be entered into the film festival circuit for distribution.
9. What are your plans for moving forward with your message?
I'm encouraged to finish the film because it is stepping stone for an inspiration factory of ways to spread the message of conscious awareness. After people watch the movie, I want them to feel hope for themselves. If viewers can borrow my story to feel inspired and empowered to take courageous steps in their lives, then the risk was worth it. I'm creating speaking platforms for students (I relate to them being bullied and experiencing prejudice), women (whether they are working mothers or changing careers) and those on a soul-searching mission to find their life-purpose. I would love to continue the conversation to focus more on the positive elements of humanity and to find other people willing to share their hero's journey. I envision projects with more documentaries, television series, books and workshops.
For more information about the film project visit: www.wonderofthewander.com