August 5th, 2014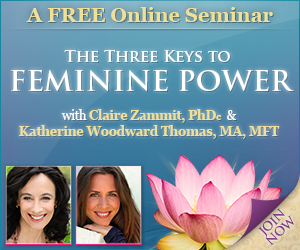 If you want to use your gifts to make a greater difference in the world, be successful in ways that are aligned with your deepest values, and continue to grow spiritually while finding true fulfillment in every area of your life . . .
There's an upcoming FREE online seminar event hosted by transformational teacher and leader Claire Zammit, Ph.D.c and bestselling author Katherine Woodward Thomas, M.A., MFT, called "The Three Keys To Feminine Power," and it has changed the lives of thousands of women around the world!
Since Claire and Katherine first began offering the Feminine Power online seminar, more than 250,000 women from 196 countries around the world have responded to this step-by-step approach to realizing their highest calling, fulfilling their deepest potential, and creating an extraordinary life.
They have experienced stunning break-throughs in their relationships, creativity, prosperity, health, overall happiness, and so much more . . .
To sign up for this FREE online seminar, CLICK HERE.
Here is one inspiring story from a past participant…
"Since attending 'The Three Keys To Feminine Power,' I hardly recognize my life. I am the healthiest I've ever been and feel truly beautiful, inside and out. I'm traveling, eating well, exercising, enjoying beauty, being generous toward friends and family, and experiencing a financial abundance I never even imagined before. To top it all off, I'm engaged to a passionate man who is my true match in every sense!"
—Elham S., Geneva, Switzerland