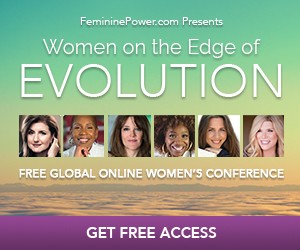 Are you a woman wanting to make a BIG impact? Then join this free online conference, and and invite your friends, for this free global online conference, just for women, happening April 23-30! CLICK HERE to join.
As a woman, you don't want to miss this free online event! April 23-30. Join other women for Women on the Edge of Evolution together with more than 20 of the leading women change-agents who will share their wisdom on how to source our creativity, insight, and power to uplevel our lives and change the world!
Ladies, don't miss this FREE virtual global conference just for women! Join other like-minded women, and 20 other women change-agents, teachers, and thought-leaders, discussing the big issues we face in becoming our most empowered selves. Invite your friends! Women on the Edge of Evolution, April 23-30!.
CLICK HERE TO JOIN.