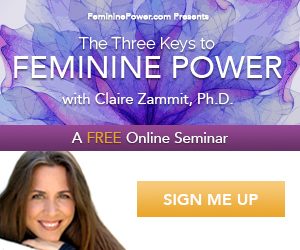 Something BIG is happening for women that's so significant that we can no longer ignore it.
Millions of women are feeling the impulse to unlock their creativity, vision and voice.
You may have even heard the Dalai Lama's declaration a few years back that "The world will be saved by the Western woman."
In working with over 500,000 women from over 100 countries, my good friend, Claire Zammit has discovered that that Feminine Power is the KEY to unlocking this potential that we're all sensing.
You see, for the past 50-some years, women have been mastering a logical, linear, masculine power system that has enabled us to create things at an unprecedented rate that are predictable and controllable.
And as useful and necessary as that power system is, it can't create the things our hearts and souls are now are aching for that are reflective of a new stage of human potential such as the potential to…
● Become authentic confident, visible and seen
● Create Intimate, loving growth oriented partnerships
● Discover your gifts and greatness
● Expand your prosperity in ways that are aligned with your values
● Connect with your inner compass and access your intuition
● Unlock your your creativity
● Impact the world with your gifts
All of these potentials require Feminine Power to bring them forth.
When Claire discovered this, she made it her mission to awaken this power in every woman.
For that reason, I'm excited to announce that Claire is going to be holding her most popular and impactful free online event that more than 500,000 women from 110 countries have been raving about:
Attend 'The 3 Keys To Feminine Power' Event at No Charge and Discover Your True Power