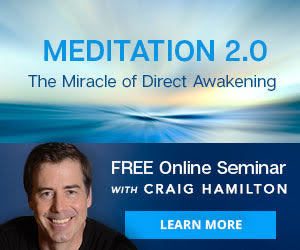 You've probably heard about the benefits of meditation for health, stress reduction, improved concentration and mental acuity.
Now, thanks to recent breakthroughs in consciousness research, there is a potent new meditation technique that reaches far beyond these benefits, enabling you to directly tap into a wellspring of latent "supercapacities" and dramatically accelerate your evolution.
Spiritual teacher Craig Hamilton is going to unveil this powerful new practice at no charge in a 90-minute global online seminar:
Meditation 2.0 – The Miracle of Direct Awakening 
CLICK HERE to access and find out more information about this online seminar.