There are vibes of energy all around us, coming from people, places, or objects. Often they are too subtle to pick up, but a pendulum acts as an antenna to pick up some of these vibes. Anyone can use a pendulum; all you need is something to hang from a string. Most people prefer to use a crystal or other sturdy material to protect the pendulum from bad vibes, but anything will do as long as you know you'll have to throw it away after a few uses. Here are a few things you can do with a pendulum.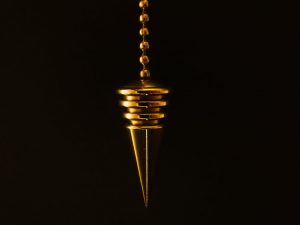 Finding things
The most common use of pendulum dowsing is to find lost objects. Using a pendulum to find something you've lost can be very helpful while also giving you great practice and bonding time with your pendulum. The more you use it, the better and more accurate your results because your connection with it is stronger, and it can more easily resonate with you, or you with it. To find what you've lost, simply walk around the space where you're sure you lost the item, then ask the pendulum if you're hot or cold. You'll get some kind of positive sign if you're getting close to the item.
Getting answers
Whether you believe you're connecting with Spirit Guides or your higher intuition, pendulum dowsing can help you find answers to difficult questions, or even help you predict the future. You can find out how to use a pendulum here if you want to get a basic understanding of what to expect, but it's simple enough to use your pendulum to get answers to tough questions. Stick to simple yes or no questions for this, and learn which ways your pendulum will swing for each answer. Of course, pendulum dowsing is much more than asking yes and no questions, but this is the basic dowsing that you need to learn and get really good at first. Once you get used to the basics and incorporate it into your daily life, you can start to get more in depth if you wish, such as finding lost objects or persons in relation to a map.
Health
When we are sick, our food loses its taste, our bodies ache to touch, our vision is blurry and burns, and our ears become pressurized, distorting sound. However, sometimes you feel sick without any obvious symptoms, which makes a visit to the doctor less than productive. Pendulum dowsing helps you to tap into your higher consciousness and access pertinent information not accessible through the senses. Some alternative health experts compare pendulum dowsing to the bridge between your logical and intuitive minds. If you're merely trying to determine what your body is suffering from, you can ask the Pendulum questions such as "is it allergies?" or "should I call the doctor today?" A Pendulum should not replace a doctor's diagnosis, but it works well as a daily check on your body because you are ultimately the expert on yourself.