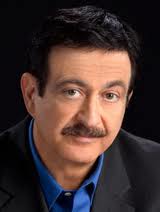 Beyond Belief with George Noory, a new TV show exploring the unknown and mysteries of the universe, will debut on GAIAM TV.com, Friday, December 14th. Noory is host of Coast to Coast AM, the most-listened-to overnight radio program in North America. Nationally syndicated by Premiere Networks, the program is heard by nearly three million listeners per night on more than 560 radio stations in the U.S., Canada, Guam and Mexico. GAIAM <www.gaiamtv.com > TV now brings this popular radio personality to host a new original, weekly series entitled Beyond Belief with George Noory.
"This is a great opportunity to expose new listeners to my vast radio show and to also give my listeners an opportunity to experience provocative films, documentaries and original interviews on GAIAM TV.com", shares Noory.
For nearly 10 years, Noory has captivated listeners with his discussions of paranormal phenomena, time travel, alien activities, conspiracies and all things curious and unexplained on his popular radio program. He now brings his informative, investigative and dynamic conversations to GAIAM TV.com in a one-hour show, which will be taped in front of a live audience at GAIAM studios in Boulder, Colorado. Noory will feature some of his favorite guests from his radio program and field questions from the live studio audience. The program is a Gaiam Production and will be available exclusively on GAIAM TV.com a streaming SVOD format.
"We are thrilled to add Beyond Belief with George Noory to our growing roster of original programming, including Gaiam Open Minds with Regina Meredith, a 30 year veteran of NBC and founder of Conscious Media Network. With the popularity of streaming video and the growing demand for paranormal and metaphysical programming, this program will engage our subscriber base eager to explore the alternative and controversial topics Noory bravely investigates in his compelling interviews," said Patricia Karpas, Gaiam TV Digital Strategy Officer.
To watch Beyond Belief with George Noory, subscribe to the channel here: www.GaiamTV.com/George. The first 10 days will be free to new subscribers.