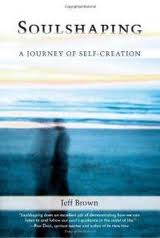 Jeff Brown is the author of Soulshaping: A Journey of Self-Creation
, the inspiring memoir of an archetypal "male warrior" – a trial lawyer- who struggled to find his heart and a more authentic, soulful path. Rivetingly personal and profoundly universal, this book is for anyone who has heard a whisper of something truer calling out to them amid the distractions of modern life.
In our interview, Jeff shares how he was able to follow his calling to write in spite of facing intense economic, spiritual and personal obstacles. He also gives advice on how you can follow your calling even if you have practical concerns such as not being able to make enough money. Throughout our conversation, Jeff reveals some of the lessons he learned along the way and goes into great detail about the inner work he did throughout his journey.
For more information on Soulshaping and Jeff Brown, you can visit http://www.soulshaping.com/ or press the play button below to listen to our interview. You can purchase Soulshaping on Amazon by Clicking Here