In 1920, at the age of 27, Paramahansa Yogananda left his home in India to travel to the United States as India's delegate to an International Congress of Religious Liberals convening in Boston. That same year, he founded the Self-Realization Fellowship to spread his teachings on India's ancient practices and philosophy of Kriya Yoga and meditation. In 1924, Paramahansa Yogananda engaged in a cross-continental speaking tour giving lectures on Self-Realization, yoga and meditation. His work led to meetings with an American President, Mahatma Gandhi and Nobel-winning physicist Chandrasekhara Venkata Raman. In 1946, he published Autobiography of a Yogi which has been translated into 25 languages and designated as one of the "100 Most Important Spiritual Books of the 20th Century" by a panel of spiritual authors convened by Philip Zaleski and HarperCollins publishers.
Today, the Self-Realization Fellowship is headquartered in Los Angeles and has meditation centers and temples across the world, including Self-Realization Lake Shrine Fellowship where a portion of Mahatma Gandhi's ashes are encased. I recently had a chance to speak with Brother Satyananda, a Monastic Monk at Paramahansa Yogananda's Self-Realization Fellowship and minister-in-charge at Lake Shrine.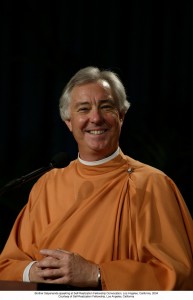 In our conversation, we talk about what Brother Satyananda's daily life is like, the challenges of being a Monastic Monk at the Self-Realization Fellowship and how Paramahansa Yogananda's teachings on meditation can help people today…Brother Satyananda also shared with me some practical advice he gives people who come to him who are facing extreme financial distress such as unemployment or loss of income….
You can listen to our entire interview by clicking the play button below. For more information about Lake Shrine you can visit http://www.lakeshrinetemple.org/