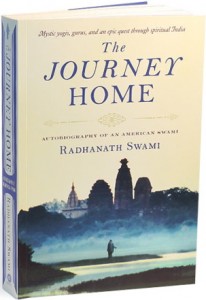 In 1970, at the age of only 19, Radhanath Swami left his home in America seeking adventure and spiritual knowledge. After trekking across Europe for months, he reached his long hoped for destination: India, where he lived for many years as a wandering monk. This led him to encounters with spiritual teachers such as Mother Teresa of Calcutta and the Dalai Lama and also took him on an adventure filled spiritual experiences and meetings with other interesting people.
Throughout Radhanath's journeys, he learned the value of a life devoted to God and also felt a strong desire to help relieve suffering. One result of this has been that for the past twenty years he has initiated a number of acclaimed social action programs including Midday Meals, which feeds more than 200,000 plates of nutritious vegetarian food to indigent children daily; missionary hospitals and eye camps; eco-friendly farms, schools and ashrams; and a number of emergency relief programs throughout India.
Radhanath Swami recounted his story, which is filled with bizarre characters, mystical experiences, and dangerous adventures in his recently published memoir, "The Journey Home – Autobiography of an American Swami."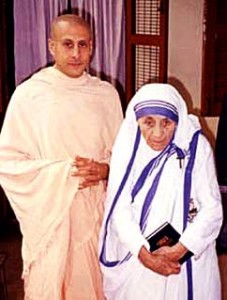 I recently had the chance to interview Radhanath Swami. He shared with me what it was like living in India with no money as a wandering monk — including a scary encounter he had with a mongoose that crawled up his back. This led to a conversation about suffering where he talked about how he responded to the initial suffering he felt when the mongoose crawled on him and then fell asleep on him.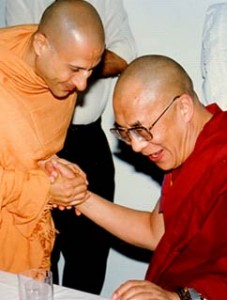 He talked about how we can find meaning in suffering if we look for ways that it can help us grow and become more connected to God. He also shared with me how his meeting with Mother Teresa, Dalai Lama and other spiritual teachers inspired him to engage in community service projects to help relieve other people's suffering….
You can listen to our entire conversation by clicking the button below.
You can purchase "The Journey Home" on Amazon by clicking here
.