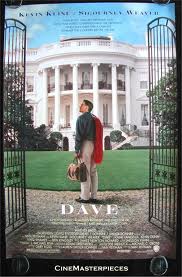 Dave is the story of a part-time professional impersonator who runs a temporary employment agency. Dave Kovic(Kevin Kline) takes a job as the President's decoy for a night and gets roped into pretending to be the President of the United States for real. When the President has a stroke and falls into a coma, White House Chief of Staff Bob Alexander (Frank Langella) and Communications Director Alan Reed (Kevin Dunn) convince Dave it is his duty to continue to impersonate the President. They tell him that Vice President Gary Nance (Ben Kingsley) is a bad guy, but in reality Bob does not want the Vice President in power because he has his own agenda. Dave quickly falls into the role and does his best to help everyone he can. Eventually, the estranged First Lady Ellen Mitchell (Sigourney Weaver) discovers that Dave is not her husband. She allows him to continue the farce until he can uncover Bob's plot, clear the Vice President's name, and complete his efforts to pass a job bill.
The reason I found this movie so inspirational and inspiring is that it really showed what someone good in power could do. Dave worked hard to help the people and did not get so caught up in the power that he forgot what he was there for. He also connected with the people around him like the homeless children he visited and the Secret Service agent that guarded him. Dave never used his power to help himself or even his friends. Instead he looked at the big picture and did what was best for everyone. It makes me wonder what the world would be like if the people in charge did not do it for money or power but rather for the good of others.
About the Author:
This guest post is contributed by Debra Johnson, blogger and editor of Liveinnanny.com. She welcomes your comments at her email Id: – jdebra84 @ gmail.com.