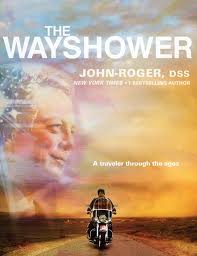 Running from mistakes of the past, a man finds a secret book with ancient powers – a tool that can give him the answers he seeks. But a Dark Force has been awoken… one that will stop at nothing to reclaim the sacred text. When the book is stolen, an age long battle resumes. But his teacher: a "Wayshower", can only show him the path to victory, for he must win this epic battle on his own.
The Wayshower is a fascinating movie about a man who must learn how to overcome his personal demons in order to move forward in life. One of the most unique aspects of the film is that it uses images and cinematography to visually portray the inner conflict that can take place within us and how we can deal with the shadowy or dark aspects of our self.
I had a chance to interview the director and actor of the film, Jsu Garcia. In our conversation, Jsu talks about how he used his inner voice to make the film, what it was like working with co-star Eric Roberts and some of the technical challenges of making a movie that shows characters learning spiritual lessons and going through personal transformations.
You can listen to our interview by clicking the button below.
The Wayshower Premiere will be at the ArcLight Cinerama Dome on March 8th. For more information on how you can watch The Wayshower, please visit http://thewayshower.com/